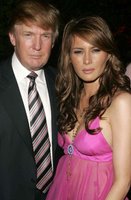 On Thursday, Melania Trump discussed the details of childbirth with the ladies of "The View."
Melania appeared on "The View" just two weeks after she gave birth to her first child with Donald Trump. Star Jones asked Melania how her labor went. Trump replied that the whole experience was "great" and that the birth was "very, very easy." Melania went to the hospital on Sunday, March 19th and the baby was born on Monday morning. The
baby boy
is named Barron William Trump. Joy Behar asked Melania if she had an epidural and she responded "of Course."
Source: People